"No complete story of America's part in the war will ever be written until somebody has made a collection and read thousands of the letters home." -Heywood Broun, The A.E.F.
This collection of cards and letters were sent home to Boston by my great-uncle Sam Avery during his various deployments as a U.S. Army soldier during the period of World War One. During the early 20th Century which was also known as the "Golden Age of Postcards" in America, written correspondence was both an art form and the only way to keep in touch across the miles. Postage was 1 Cent for a postcard and 2 Cents for a letter.
These writings are addressed to Sam's immediate family living in Charlestown, Massachusetts including his sisters Emily (Em) and Helen (Lena), his brother Henry, his nephew Leonard (Henry's son), his brother-in-law Bert (Lena's husband), his father Fred (Pa) and also his friend "Little Mary."
I have transcribed Sam's letters exactly as he wrote them, editing nothing and only adding commentary to clarify his references and the historical context in which they were composed.
In the U.S. Army handbook entitled Management of the American Soldier by Maj. Gen. David C. Shanks (1917), officers were instructed to encourage their men to write home to their loved ones. Again, General Order No. 66 from AEF General Headquarters dated May 1, 1918 stated the following:
"Duty to one's country does not end on the parade ground, nor even on the battlefield, but consists of doing everything in one's power to help win the war. To write home frequently and regularly, to keep in constant touch with family and friends, is one of the soldier's most important duties. Mothers and fathers will suffer if they do not hear often from sons fighting in France. In the present large companies, it is not possible for officers to write letters for their men, and every man must do it for himself."
As we shall see, Sam Avery did not need any such "official" encouragement or assistance to keep in touch with his family and friends as he longed for hearth and home. Rather, Sam reveals himself to be a well-read and engaging writer who vividly captures the nature of his life and times on the front lines of America's Great War with humor, irony and compassion.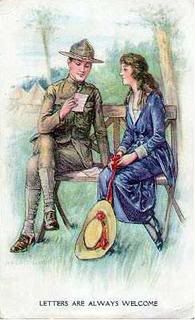 Sam's letters are published here according to the sequence in which they were written. Therefore, they are organized in "reverse order" with the most recent at the top. To read them chronologically, please start at the bottom of the blog and work your way upwards. Simply click on the Soldier's Mail image-link near the top of the sidebar to start with the first posts and join Sam's adventure at the beginning. Students of history and members of the military may find a special resonance and compelling story in these letters from 90 years ago. If so, please let me know. I would like to hear from you.

Please subscribe to the blog and march along with Sam and others of the Most Gallant Generation…

REL, Memorial Day 2008

Harry Gregson-Williams, "The Letter"